Your Clontarf plumber comes highly recommended – competent, qualified, fully insured, and standing by for your call 365 days per year – for any repairs, maintenance, upgrades or installations of plumbing and heating equipment.
Your Clontarf Plumber is capable:
In order to provide you – the client – with the best possible combination of competence, craftsmanship, experience and in-depth knowledge, we have systematically compiled a hand-picked team of plumbing engineers which grew over a number of years.
These individuals are qualified and capable of working on any size installation – industrial, commercial, or residential – and on any time of plumbing and heating equipment, including gas- and oil boilers, water pumps, water distribution and drainage. Additionally, any one of them is capable of providing you with professional advice to help you manage your plumbing and heating system – and the costs – as best as possible.
Range of plumbing services:
Due to the highly skilled team, Clontarf Plumbers can provide a diverse range of plumbing and heating related services, including – but not limited to – emergency repairs, upgrades, installations and maintenance of boilers, water pumps, pipes and valves.
While many people only pay attention to their heat- and water distribution system once it breaks down, the fact is that break-downs can be kept to a bare minimum by doing regular routine maintenance. Give us a call to talk to one of our professional plumbers for expert advice, regardless of the size of your installation.
Your Clontarf plumber is fully insured:
Insurance is one of life's necessary evils – you need to have it, yet hope to never need to use it. As such, the company and staff comes with full liability insurance – because in real life you never know what can happen, especially when working on an older building.
365-day standby plumbing service:
Our Clontarf plumbers are fully aware of the fact that time is precious – partly because of the value of your own time, and the disruption caused by having to wait for repairs, but also due to the fact that the longer it takes for help to arrive, the more you are vulnerable to suffering even more damages as a result of the problem not being contained yet. As such, our typical response time is less than one hour.
No hidden charges:
Most people, when they have to call out a plumbing engineer, they already start dreading the moment when they have to face the bill. This is mostly due to the – unfortunately all too common – practise of inflating bills with hidden charges, including call-out fees and even parking costs.
With us, the price you are quoted beforehand is the price you pay – period. Unless, of course something else comes to light during repairs (in the case of boilers, for instance, it is difficult to diagnose properly without opening it first).
So – give us a call on the most convenient number from the list below, or use the emergency telephone number – and help can soon be on its way.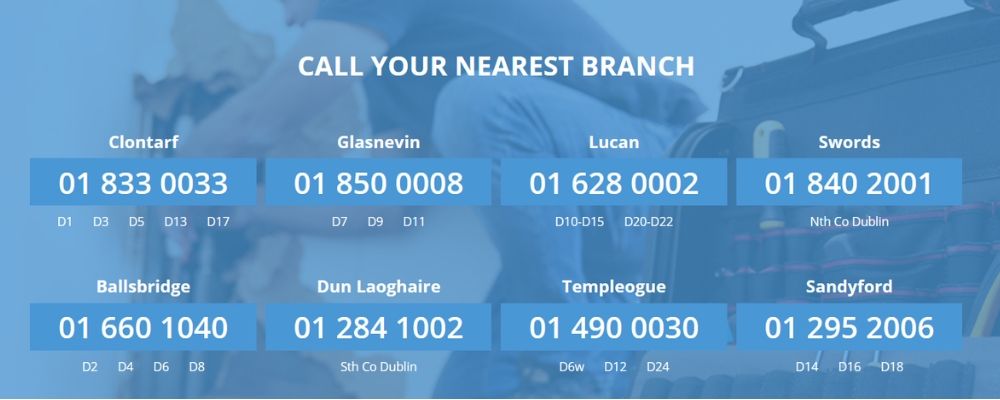 Services supplied by a satellite branch of Dublin Plumbing Services.